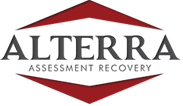 Assessment revenue is the lifeblood of every HOA. HOA Boards of Directors have the legal duty to collect delinquent assessments in order to protect the interests of the HOA and the property values of its members. Our firm provides our clients with access to cutting-edge, comprehensive and attorney-supervised assessment collection services through the use of our affiliate, Alterra Assessment Recovery.
Alterra's services include:
Comprehensive collection services from pre-lien through foreclosure
Post-foreclosure services including unlawful detainer actions
Post-judgment services including writs, wage garnishments and asset levies
Lender and creditor negotiations
Bankruptcy assistance
State-of-the art online platforms that provide real-time file information, and that streamline the flow of information between Alterra, its clients and delinquent owners
Preparation and revision of HOA collection policies
Alterra's aggressive and cost-efficient approach to resolving assessment delinquencies results in the collection of nearly $1,000,000 of debt every year for its clients. For more information about Alterra's services, please visit its website or request a proposal online.